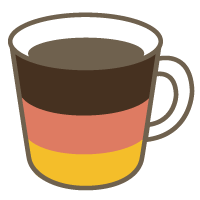 German

Vocabulary

Speaking

Fun & Games
Hier lernen wir spielend Deutsch. Wir benutzen Small Talk, Spiele, Musik-Texte und sogar Abenteuer um ihre Deutschkentnisse zu verbessern! -- In diesem Kurs können Sie Coupons gewinnen --
Here it is important to ask yourself...
... why do I want to improve my german?


to be able to talk about a specific topic or just to do better small talk?


to learn more about the history or culture of Germany/Austria?


to live in a german speaking country?


to impress your penpal?


We will use the Trial to find out about your current level and your motivation, maybe we can use it to our advantage.
Then I will make a customized lesson plan for you and provide you with learning material (english to german).
Let us work together on your
deutschem Traum
!
Lessons offered by this tutor
Feedback from students
他の講師のレッスンを受けていましたが平日はなかなか時間が取れずレッスンを受けられる時間も週末に限られていたことと、文法ばかり宿題の答え合せの繰り返しでだんだん退屈になってきており、オンラインでレッスンをする意味を感じなくなっていました。短い時間でも回数をこなせそうなレッスンを探していたので試しにレッスンを受けてみました。やはりレッスンは楽しくないとやる気もでません。今回初めて受けましたが面白いアウトプットをしたい気分にさせるレッスンは非常に良かったです。アウトプットには語彙力が必要なので中級くらいにオススメです。

Vielen Dank für die schöne Zeit in deinem Unterricht! Ich habe viel gelernt. Ich freue mich darauf, dich zu sehen♪

Andreas ist ganz toll! Er ist immer nett!(✿╹◡╹) Wenn auch ich manchmal lansam gesprochen habe, hatte er Geduld, um mich zu verstehen. In dem Unterricht hat ich Reise in Deutschland und in der Schweiz besprochen. Natürlicherweise gab er mir wertvolle Tipps. Er benutzt oft "Chatbox", so ich verstehe besser. Ich möchte Deutsch weiter in seinem Unterricht lernen.゜|*╹ω╹*|゜

これまで3回レッスンを受けました。語彙力が足りないので、なかなか発語が続きませんが、Andreas先生は根気よく付き合ってくれます。フレンドリーなので緊張せずに話せます。

私の単語力がなさすぎて、ほとんど英語とドイツ語のちゃんぽんになってしまいましたが、根気よく教えて下さいました。もっと話せるようになれば、もっと充実したレッスンになると思います。親切でやさしい先生です。 Andreas is really patient to teach German, while my vocabulary is too limited so that I tended to speak mixed languages. Better I speak, more fruitful the lesson should become. I found Andreas very nice and gentle.