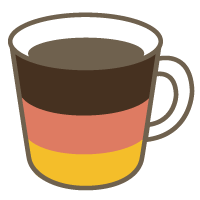 German

Listening

Vocabulary

Speaking
Because sometimes a 20 min Conversation is not enough to be detailed about a topic.
I have noticed that 20 minutes of conversation are not always enough, a topic is interesting, there is so much more to say so here is the XXL version where you can practice to speak about anything you like.
I do have a lot of material we can use, read, analyse and discuss about but feel free to add anything you want to our conversation.
Lessons offered by this tutor
Feedback from students
初めてのカフェトーク受講に加え、初めてのスカイプでのドイツ語レッスンでしたが、とても有意義な時間を過ごせました。体験だけだったのですが、先生は熱心に私のすべての質問に優しく答えてくださって、来るテストに向けて自信を持たせてくれました。 これからtelc B1Pruefung を控えてるので先生と会話のレッスンをしていけたらと思っています。

Nina ist eine gute Lehrerin. Ich kann ihr nur empfehlen.

Nina ist nicht nur freundliche, tolerante, aber auch fokussierte und kompetente Lehrerin. Ich bin immer dankbar, dass ich nach jedem Unterricht mit Ihr das Gefühl bekomme, dass ich Heute etwas gelernt habe, und ich mein Deutsch noch verbessern will... Wenn man große Motivation ein anderen bringen kann, dann das ist ein klares Anzeichen; Sie ist eine sehr gute Lehrerin! Nina is not only friendly, tolerant, but also focused and competent teacher. I am always grateful, because after every lesson with her, I get the feeling that I have learnt something, and I want my German to be even better... When someone can bring big motivation to the other, I imagine, this is a clear sigh; that she is a very good teacher!

今回はドイツ語のメールの添削をしていただきました。スカイプを通して意味が通らない箇所や文法的に間違っている箇所をご指摘いただき、また、意味が通っているところもより良い表現を教えていただきました。いつものことながら、とても丁寧な対応をしてくださりました。

とても素晴らしい先生です。受講者が必死に繰り出すプアなドイツ語を、最早超能力とも呼ぶべき察知能力で理解してくださいます。講義内容もこちらの希望を最大限考慮してくださいます。引き続き授業をお願いする所存です。