Destination : FLUENT FRENCH ! (Intermediate and advanced levels welcome !)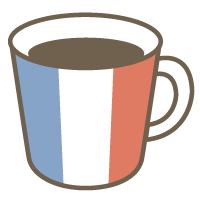 French

Idioms

Grammar

Listening

Vocabulary
I will correct ALL OF YOUR MISTAKES while we're talking.
This lesson follows the following thre
ad :


We have together a 10-minute talk (or even longer) about an easy topic (during the first class, i would have chosen it. For example : French cooking or cooking from your country, weather, travels... For the next time it will be your turn to choose one. Be creative ! :) )


While talking, i notice your mistakes.


Once our conversation is over, i correct your mistakes by explaining the grammar and vocabulary notions related with it. If we don't have the time to finish the explanations, I will text you after the lesson to explain and correct the remaining errors.


I give you some expressions and vocabulary to enrich your lexicon.


If you choose to continue with me, you will have to write a 30-line text using the learned notions in order to sum up the conversation we had. I will correct your work during the next lesson.


You can get shorter or longer lessons by sending me a message. Generally, 30-minute lessons are available through instant requests.
Lessons offered by this tutor
Feedback from students
I had my first French lesson with Florent. He provided extensive feedback, including correcting most of my errors and writing them down for me. At the same time he seems like a pretty easygoing tutor who doesn't stress you out about the errors you make.

初めてのレッスンで緊張しましたが、人当たりが凄く良い方で楽しく勉強することができました。 英語や日本語なども使いながら自分の表現したいことを伝えると、その文脈に応じて適切な語彙を教えてくださるので、現地に行っても使えるフランス語力がつく超実践的なレッスンだと思います。

まだ講師慣れしていないため、現地のフランス人とコミュニケーションを取るような印象で非常に実践的であった。日本が多少話せる講師であるため、わからない部分を聞くことができた。ただし、特にテキストもなく、何をするかも決めずにレッスンを受けてしまったので、事前に内容を詰めておけばよかった

Florent et un professeur très gentil, et donne le cours avec beaucoup de passion. Il fait en sorte que je sois à l'aise pendant le cours, en m'encouragent à m'entraîner. Il m'a présenté beaucoup d'expressions intéressantes françaises. Fortement conseillé à tout le monde :) Merci beaucoup Florent!