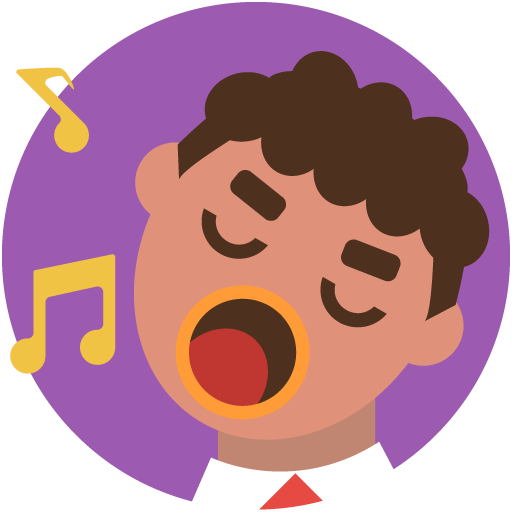 Voice
If you want to be a better singer, you need to master the fundamentals. Posture, arm weakness and good breath support are required.
I'm sure you already love singing if you do choir or karaoke, but the truth is, in order to sing well, there are several things you must do before even releasing your voice. If you feel like there is a flaw in your singing, it is possible that you're having an issue with the fundamentals.
Let's go back to the basics of posture, breathing (exhale→inhale), projecting, etc. We'll practice everything from start to finish in this no frills (lol) lesson.
The lessons I usually teach are aimed at choir members, so if you sing in a choir and want to improve, this class is perfect for you.
This class is not about learning how to sing, it is about studying vocal music and vocalization. Since I have a lot of experience with music from European countries, we can also study how to do so in foreign languages if you'd like.
I myself am studying English right now and I often hear "I can pronounce things clearly right after I've heard them, but otherwise..." Even though it seems like you should be able to sound out anything as long as you study phonics, that is often not the case. If you have a hard time being understood, you might just have a vocalization problem. Please try the lesson if you want to check to see if this is the case. (Unfortunately, I do not teach actual pronunciation).

★Please send your first request more than 48 hours in advance. If you're repeating the class, please make the request at least 24 hours in advance. If you have a specific song that you'd like to practice, please write it down when you send your request so that class can run smoothly★
(Class Materials) None in particular

※Trial lessons: The first 10 minutes will be a vocal training trial and the remaining 10 minutes will be for questions and requests.
Lessons offered by this tutor
Feedback from students
先生の教え方が熱意があり、ユーモアもありで楽しいレッスンでした。 私は日常の会話の声が小さいのが悩みでレッスンを受けたのですが、非常にためになるレッスンだと思います。 良いトレーニング法も教わったので、是非頑張りたいと思います。

発声を教えていただいていますが、身体の見えない部分を感覚で動かして声を出すために、私の声や姿勢をチェックしながら練習法を指導して下さるので、実感しながら練習を積むことができます。また、練習方法を幾通りも提示して下さり、私に合う方法をアドバイスして下さるので、感謝の気持ちでいっぱいになります。

いつも「ear」と「year」の違いが聞き取れなかったのですが、今日Micky先生から「Y」の正しい発音の仕方を教えていただいて 聞き取れない理由が分かりました!先生がおっしゃってくださるように、正しい発音の仕方を知らないから聞き取れないんだなあと毎回実感しています。 毎回、自分が英語が聞き取れない理由が分かって、おもしろいです♪

今日は初めてVの正しい発音を知りました。ずっと唇を噛めばそれなりに英語っぽく聞こえるのかと勘違いしていました。 摩擦する場所も唇の位置やお腹の使い方など、今までとは全然違って、自分のVの発音がちゃんとアメリカ英語のVのような感じになって 嬉しいです♪

今日はイントネーションを重点的に教えていただきました。文の内容を理解しながら、リエゾンなどを踏まえて教えていただけるので、 今練習している文章の抑揚のつけ方のポイントがよく分かりました。これまでの私のイントネーションのつけ方は、英語っぽく聞かせたいという気持ちばかりで全然わかってなかったなあと痛感しました。 レッスンを重ねていくうちに、喉を開けるという感覚やisなどお腹の使い方がより分かってきて、毎回楽しいです。 アラフォーでいままでの発音の癖を直していくのはなかなか根気も要りますが、Micky先生のレッスンで確実に発音が変わります!