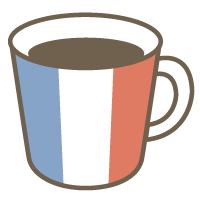 French

Good for beginners

Grammar

Listening

Reading
What would you like to practice today ?
* Do you want to study something in particular ?
A book, a movie, an article ...

* Do you have questions about grammar, or homeworks you don't understand ?

* A theme you are interested in ?
Fashion, travel, cooking ...

Please let me hear about it and let me design a lesson for you !
I am looking forward to hear about your ideas !
Lesson Pack Details:
This is a 5-lesson pack. You will be issued 5 free coupons when your first lesson is confirmed by the tutor so you can request the remaining lessons. Please note that all requests related to this pack must be taken within 60 days of the confirmation date.
Lessons offered by this tutor
Feedback from students
オリジナルのテキストを用意して下さり、 レベルに合わせた指導をしてくださるので、 とてもわかり易く、どんどん身についていくのがわかります。テキストの予習をしておくと、スムーズにレッスンが進み、わからないところの質問をあらかじめ用意しておくと、さらに深い学びができます。クレール先生のお陰で、フランス語の学習がとても楽しいです。

今まで本や独学で勉強していて、過去形未来形が良く分からなかったのですが、 クレール先生はとても丁寧に教えて下さり、理解できるようになりました。仏検に挑戦したり、クレール先生とフリートークできるぐらい、フランス語を上達させたいです!これからもよろしくお願いします。

カスタムレッスンパック、今日で終了でした。全て充実した時間でたくさんの単語や文章を教えて頂きました。これまでのを復習して実践で使っていきたいです。レッスン、ホンマに楽しかった!またリクエストします。

カスタムレッスン(パック)受講中です。本当にいつもあっという間に時間になってしまうくらい楽しく会話出来ます。小さな間違いもチャットで書きながら進めてくださるので復習できます。オススメです。

カスタムレッスンパック受講中です。質問したかった事や、新しい単語や文の作り方など 話しながらチャットで書いて頂けるので、レッスン終了後もそれを見ながら復習できます。楽しすぎてあっという間に時間になっていました。またリクエストしたいと思います。