Intensive French Conversation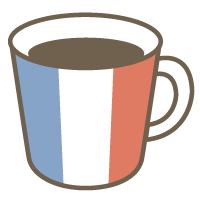 French

Good for beginners

Method Oriented
Repeating

Grammar
Looking for a dramatic improvement in your French conversation skills? Then, this lesson pack is for you!
This lesson pack is perfect for those students who


want to improve their conversation skills


can hear and understand French, but often have a hard time coming up with the words to reply


prefer taking a short intensive lesson every day to have an hour-long lesson every once in a while


would rather feel comfortable reading scripts than having a free conversation.



Practice daily expressions and phrases with me, until you become able to use them in your French conversation!
We will do quick role-plays and dictation practices as well.



【 Cafetalk Translation / February 2019 】
Lesson Pack Details:
This is a 15-lesson pack. You will be issued 15 free coupons when your first lesson is confirmed by the tutor so you can request the remaining lessons. Please note that all requests related to this pack must be taken within 45 days of the confirmation date.
Lessons offered by this tutor
Feedback from students
C'etait bien :-) 頭が冴えている仕事前にレッスンを受けられるのがすごくありがたいです!

C'était bien passé. Elle a bien écouté mon français et ses explications étaient claires. 今までやり残していた事をようやく始められて、しかも先生も親切で、がんばれそうです!

C'était officiellement le premier leçon avec Claire. C'était bien! Elle m'a expliqué gentiment. J'ai fait des exercices orales et appris l'intonation et le rythme. Merci Claire! ;-)

いつもなかなか単語がでてこないのですが、辛抱強く理解してくださって 楽しくレッスンしています。もっと早く反応できるように頑張ります。

今日もありがとうございました。文法の理解に少し時間がかかってしまいましたが、なるべく日本語を使わないように、でもどうしてもわからないと日本語で説明くださるので助かります。対応もいつも丁寧で毎回気持ちよくレッスンできます。