Intensive French Conversation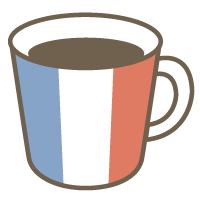 French

Good for beginners

Method Oriented
Repeating

Grammar
Looking for a dramatic improvement in your French conversation skills? Then, this lesson pack is for you!
This lesson pack is perfect for those students who


want to improve their conversation skills


can hear and understand French, but often have a hard time coming up with the words to reply


prefer taking a short intensive lesson every day to have an hour-long lesson every once in a while


would rather feel comfortable reading scripts than having a free conversation.



Practice daily expressions and phrases with me, until you become able to use them in your French conversation!
We will do quick role-plays and dictation practices as well.



【 Cafetalk Translation / February 2019 】
Material:
Original Material
Lesson Pack Details:
This is a 15-lesson pack. You will be issued 15 free coupons when your first lesson is confirmed by the tutor so you can request the remaining lessons. Please note that all requests related to this pack must be taken within 60 days of the confirmation date.
Lessons offered by this tutor
Feedback from students
Claire先生、今日もありがとうございました。否定文の直すのは少し苦手で混乱してしまいがちですが優しく待っていてくださるのでありがたいです。

C'était très bien. :-) Le sujet de texte était vraiment moderne et intéressant. Cet expérience m'aidera quand je lis le journal et l'article sur la société. Merci beaucoup Claire!

C'était très bien. :-) Le français de texte était pratique. J'ai pu apprendre des expressions vives que les francophones utilisent quotidiennement. Merci beaucoup Claire!

Claire先生、鼻かぜ早く治りますように。今日もありがとうございました

C'était très bien. On a utilisé un texte sur un service intéressant. J'aime bien d'apprendre sur des services françaises qu'il n'existe pas au Japon. :-) merci Claire!