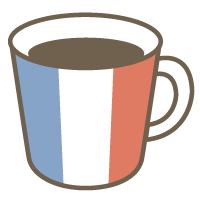 French

Pronunciation

Grammar

Listening

Reading
What would you like to practice today ?

* Do you want to study something in particular ?
A book, a movie, an article ...

* Do you have questions about grammar, or homeworks you don't understand ?

* A theme you are interested in ?
Fashion, travel, cooking ...

Please let me hear about it and let me design a lesson for you !
I am looking forward to hear about your ideas !
Lessons offered by this tutor
Feedback from students
C'était un leçon essayé et bien. Elle était gentille. Ses explications étaient très claires. :-) お試しレッスンです。Claire先生は優しい雰囲気でしっかり話を聞いてくださったので、最初少し緊張していましたがすぐにリラックスして授業に集中することができました。 Merci beaucoup!

発音重視希望でレッスンしました。とても丁寧に直してくれました。日本語もお上手なので質問が出来て心強かったです。

I had another great lesson with Claire. She is easy to talk to and is very patient when struggle to express myself in French. She's good at correcting my pronunciation and introducing new words and structures. The material that she uses is good and she always provides a list of words and phrases at the end of each lesson. Highly recommended for beginners and for those wanting to get back into French. J'ai eu une autre bonne leçon avec Claire. Ç'est facile de parler avec elle et elle est très patiente quand j'ai du mal à m'exprimer en français. Elle est douée pour corriger ma prononciation et introduire de nouveaux mots et structures. Le matériel qu'elle utilise est bon et elle fournit toujours une liste de mots et de phrases à la fin de chaque leçon. Fortement recommandé pour les débutants et pour ceux qui souhaitent se remettre au français. 私はクレアと一緒にまた素晴らしいレッスンを受けました。彼女とは話しやすいです。フランス語で自分を表現するのに苦労しているときはとても辛抱強いです。私の発音を修正し、新しい単語や構造を紹介するのが得意です。使っている教材はいい参考です、そして、彼女はいつも各レッスンの終わりに単語と文法のリストを提供します。初心者やフランス語を復活したい方にはお勧めです。

Claire先生の授業は、ひとことで言うと、雰囲気がとても良いです。 気軽に質問がしやすく、高いモチベーションを保ちながら楽しくレッスンが進んでいきます。 細かい注意点にも気付いてくれ、説明も分かりやすいので、オススメです。

お願いした内容を丁寧に見てくださり、役に立ちました。こちらがわかるように気をつけながら、ゆっくりお話されるので、初心者の方や、自信がない方も気負いせずにレッスンを楽しめると思います。ありがとうございました。