La leçon - The lesson (25min)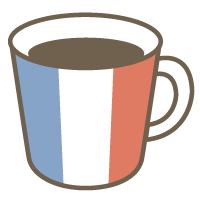 French

Pronunciation

Grammar

Listening

Reading
What would you like to practice today ?

* Do you want to study something in particular ?
A book, a movie, an article ...

* Do you have questions about grammar, or homeworks you don't understand ?

* A theme you are interested in ?
Fashion, travel, cooking ...

Please let me hear about it and let me design a lesson for you !
I am looking forward to hear about your ideas !
Lessons offered by this tutor
Feedback from students
C'était très bien, Merci beaucoup Claire! ;-) 久々に長めの文章を書いたり音読したりとすごく良い刺激になりました!

C'était très bien passe comme d'habitude !!

Merci beaucoup Claire! 久々に考えながらフランス語が話せて良かったです!先生もご自愛くださいね:-)

Car elle est tres gentille et sympatique! Grace a sa patience et son bon caractere, je me suis bien amusee les lecons avec elle. je voudrais faire des progres vite ;)

Merci pour aujourd'hui , c'est toujours agréable parler avec vous.