La leçon - The lesson (1h)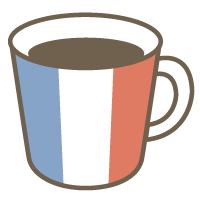 French

Good for beginners

Pronunciation

Method Oriented

Grammar
Let's learn French in a structured way with the help of textbooks materials.
In this course, I will help you to learn French in a structured way.

Every lesson has a different goal in order to keep things interesting. For exemple, introducing yourself or asking someone about their week-end.
Great to learn grammar, vocabulary and have a good prononciation from the beginning while practicing conversationnal French.
Of course, the focus is on speaking but you will also learn a lot of new words and expressions thanks to texts and exercices.

If you :

- want to learn or improve fast
- be able to talk about everyday life subjects
- need guidance and structure to be efficient

I recommend this lesson !

Lessons offered by this tutor
Feedback from students
Merci beaucoup! きれいな発音で丁寧に指導していただけるのでわかりやすいです。質問にもっとスムーズに答えられるよう練習していきたいと思います。À bientôt !

Merci beaucoup! 今回は思った以上に、予習もレッスンも苦戦しましたが、フランス語にふれる時間を多くして慣れていきたいです。わからないところは、ゆっくり発音したり、テキストを送ったり、丁寧に教えていただけて感謝です。 次回もよろしくお願いします。

Leçon de aujourd'hui c'était vraiment amusant. Merci beaucoup. 苦手な数字の練習をしていただいて、難しくも楽しいレッスンでした。少しずつ耳を慣らして、トレーニングしていきたいです。

Merci, beaucoup. 始めての1時間のレッスンで緊張しましたが、丁寧に指導していただけて安心しました。テキストは事前に送っていただいていましたが、それ以外にも、ちょっとした会話のやりとりや、単語など、ゆっくりきれいな発音で聞くことができてよかったです。次回もぜひ受講したいと思います。ありがとうございます。

初めてでも?安心して話す雰囲気を作ってくれる、とても優しい、きれいな講師です。 また、受講したいと思います。