【PACK】Learn French Step By Step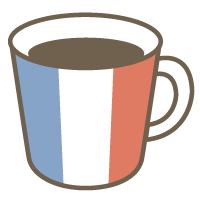 French

Good for beginners

Method Oriented

Grammar

Listening
Let's learn French in a structured way with the help of textbooks materials.
In language learning, consitency is key! This is why I recommend you do one lesson a week in order to improve faster.
In this course, I will help you to learn the basics of French language.
Every lesson has a different goal in order to keep things interesting. For exemple, introducing yourself or asking someone about their week-end.
Great to learn grammar, vocabulary and have a good prononciation from the beginning while practicing conversationnal French.
Also, this course comes with a lesson summary of the grammar points and vocabulary as well as homeworks to do each week, so you can get the most of each lesson. (optionnal but strongly recommended!)
Material:
Textbook ()
Lesson Pack Details:
This is a 5-lesson pack. You will be issued 5 free coupons when your first lesson is confirmed by the tutor so you can request the remaining lessons. Please note that all requests related to this pack must be taken within 60 days of the confirmation date.
Lessons offered by this tutor
Feedback from students
いつも楽しくレッスンしています。難しいことを質問すると、調べるなどして色々と詳しく教えてくれます。難しい表現は日本語でも説明していただき、とても分かりやすいです。

Claire先生は明るくて良い方でした。ずっとフランス語で喋ってくれるので良い練習になりますが、もちろん頼めば日本語や英語でも説明してくれます。授業中はこちらの質問にいつも答えてくれたり、こちらの発音を直したりしてくれました。授業前も事前にファイルを送ってくれたり、こちらのフランス語レベルを確認してくれ、丁寧に対応してくれました。初心者でもおススメです!Merci Claire ;)

とても楽しく、充実したレッスンでした。 ありがとうございました。

教材・レッスンプランが良いので、安心して4レッスン任せられます。あらかじめ適したテキストを送ってくれて、復習用のメモも送ってくれます。レッスンは優しくて楽しい上に、美人でキュートなのでいうことありません!(笑)

あらかじめ適した教材を見つけてレッスン数日前にテキストを送ってくれます。会話で間違えたところを文字に起こして後でメモとして送ってくれるので、復習も効率よくできます。とても楽しく優しくて、満足です。