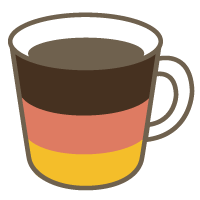 German

Pronunciation

Listening

Speaking
We will practice a conversation in German. We can talk about every topic you want to talk about or know about.
In this course,

we will practice a

conversation in German.

We can talk about every topic you want to talk or know about. For example: Self introduction, hobbies or about work.
Together we will

improve your

"talking"

and

"hearing"

ability.
If you have any questions during the lesson, don't be afraid to ask me. :)
I have a lot of different teaching materials, therefore you don't need anything.
Furthermore, we can use the book "Begegnungen A1+", if you have this book and you want to use it.
Lessons offered by this tutor
Feedback from students
初めての会話レッスンでした。自己紹介などから始めました。つまづいた時はすぐフォローしてくださり、またレッスン後も参考になる文章やテキストなどをメールで送って下さり、先生の熱心な気持ちが伝わってきました。緊張することなくレッスンを受講できました。 ネットでの会話レッスンでは自分の会話力がないと時間だけが過ぎていくという事もあり(数年前、他のサイトでのレッスンを受講した経験)心配していたのですが、先生のレッスンではその不安も全くなく指導を受けられると思いました。これからも続けて受講したいです。

いつもすばらしい授業、先生ありがとうございます As usual, It's an outstanding lesson.

Es war eine gute unterricht und ich bin dankbar für ihr freundliches Feedback.

Franzis teacher is best. After the day of this lesson, I am so surprised at the "feedback" when I want to review the lesson. The feedback is easy to memorize the useful expressions and vocabularies. Danke Lehrerin~

Die Unterricht heute war erstemal für mich mit Frau Franzis, und es hat mir Späs gemacht. Wir haben uns vorgetellt, und über einige Themen gesprochen. Sie hat außerdem mir geholfen, bei einem Email mit meinem Hausmeister Checken. Ich empfehle die Unterricht mit Frau Franzis den Leute :)!! Ich werde das Nächste mal Frau Franzis bitten, ein bisschen schneller zu sprechen, und ich möchte herausfordern ob ich sie verstehen kann!