Bavardons en français - Freetalk in French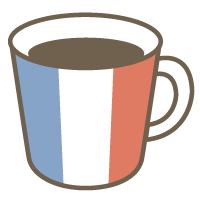 French

Listening

Vocabulary

Speaking
Parlons ensemble de ce qui vous intéresse ! Let's have chat in French about something you like !
[Français]
Une leçon idéale pour pratiquer son français sans stress.
Pas besoin de préparation ! Parlons de ce qui VOUS intéresse !
Vous rêvez de devenir pâtissier(/ère) ?
Vous avez des questions sur la France ou le reste du monde ?
Vous souhaitez parler des actualités, ou de votre dernière soirée ?
Tout est possible. L'important c'est de vouloir parler !
Nous travaillerons en douceur votre vocabulaire.

[English]
A good lesson if you want to learn French without stress.
You don't need to prepare anything! Let's talk about something YOU like!
Do you dream about becoming a pastry chef?
Do you have questions about France or the rest of the World?
Do you want to talk about the latest news, or about your party last night?
Anything is possible. You only need to want to speak!
We will build your vocabulary and knowledge in a relaxed fashion.
Material:
Original Material
Lessons offered by this tutor
Feedback from students
体験レッスンに参加させていただきました。スカイプレッスンが初めてで緊張していたのですが、先生はとてもやさしく、話しやすかったのであっという間に時間が過ぎました。

この4月からNHKの講座を聴き始めたばかりで、まだまだ初心者なんですが、Alex先生と英語日本語フランス語交じりで会話しています。 やはり話さないと身につかないと思うので、講座で習ったフレーズを実際使って復習しつつ、これから少しずつフランス語の語彙を増やしていきたいです。

とてもよい先生です。穏やかな雰囲気で話しやすいです。ひとつひとつの疑問をわかるまで丁寧に教えてくださいます。マニュアルのようなレッスンでないところがとてもよいと思います。

とても気さくで、私も自然体で授業を受けることができました。なにより、話していて楽しいです。